Written by Sebastian Wong | 14 December 2011

GSP is out again? It'll be 18 months before he steps back into the octagon. What is this boxing?
Another fight added to UFC 143, Fabricio Werdum will take on everyone's favorite fat fighter Roy "Big Country" Nelson. They needed a big fight now that GSP isn't on the card. Wonder how the rest of it will fill up.
Belfort and Silva have been announced as TUF Brazil coaches. I'm picking Silva in the rematch 14 years in the making. I still can't believe there was an event called UFC 17.5.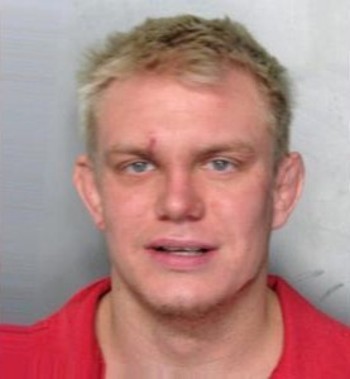 Junie Browning, known for being a crazy son of a bitch on TUF, is now the subject of a city-wide manhunt in Thailand. Browning allegedly was seen beating up a woman in a bar in Phuket, Thailand. He even updated his status on Facebook just in case the police needed a guilty plea
"Some (expletive) named Sie Menzies and about 10 of his friends started a fight with me. I guess just to test a 'UFC fighter guy' at this shitty little bar in Karon Thailand. Had a beer bottle and glass mug shattered on my head, then to make everything better, stabbed severely by some crazy Thai bitch.
"On a positive note, I managed to break a few orbital bones, at least a couple jaws, and some unconscious bodies laying on the ground before I blacked out from loss of blood and apparently had to be resuscitated in the ambulance. So, how was your weekend?'
Great Junie. I went Christmas shopping and am not being hunted by the Thai police.
Déjà vu. Fedor will be fighting in Japan on their New Year's Eve card shown on HDNet. Don't get too excited, the card is strange.. it has some pro wrestling bouts on the card as well.
Melendez and Masvidal will be fighting this Saturday in San Diego airing on Showtime after the Carl Froch vs. Andre Ward fight. Wonder how many more of these mixed nights will arise. I like the idea.
---
Looks like the Bernard Hopkins vs. Chad Dawson will be ruled a no-contest by the California State Commission. This basically means that the fight never took place. Which is funny, considering that a fight never took place.
Amazing response to my video that I posted on youtube after the Amir Khan vs. Lamont Peterson fight regarding his pushing. Just to clarify: I don't know where I stand on the deductions. I do know that people telling me that Khan wasn't pushing are dead wrong. Here's the video.
Regardless of the point deductions, Khan has proven that he has no business being in the ring with Mayweather or Pacquiao.
Tomasz Adamek is parting ways with Main Events. I thought they did a hell of a job with him. Top Rank or Golden Boy will be likely destinations.
Mike Tyson was reporting saying that a 40yr old+ Heavyweight tournament would be a good idea. Some sick part of me thinks it is too. Andrew Golota vs. Larry Donald! Ray Mercer vs. Evander Holyfield0 Wait ... Yeah... nevermind.
Antonio Margarito vs. K9 Brundrage. Do it.
Abner Mares made sure there was no questions I the rematch against Agbeko. Somewhere Russell Mora is cheering.
Carl Froch and Andre Ward are fighting this weekend to be the best 168lb on the planet not named Lucian Bute. Glad that the Super Six still worked out after all of the setbacks. The odds are relatively close with Ward as the slight favorite. You know what is a major underdog? A fight without a controversy. Good for us keyboard warriors.
SW
Things I Think I Think is a weekly article published Wednesdays on FightKnightsBlog.com by Sebastian Wong. Sebastian is a law student and former amateur boxer. He can be contacted at This e-mail address is being protected from spambots. You need JavaScript enabled to view it