Written by Sebastian Wong | 15 December 2011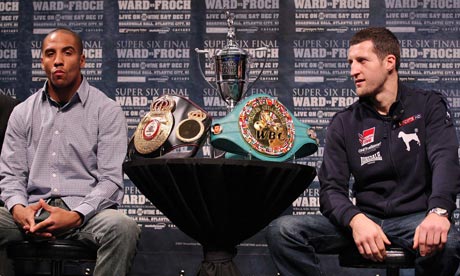 Scouting your opponent for an upcoming match is as important as any other aspect of a boxer's training camp. Usually a strategy used by fighters is to find video of your opponent's past matches against similar styles and see where they had trouble. The other film that is important is the ones against similar opponents.
The great thing about the Super Six Final is that both Andre Ward and Carl Froch both have fought both Mikkel Kessler and Arthur Abraham. Here is the video for the fights so you can see what they are looking at.
First up: Mikkel Kessler
Carl Froch
It is important to note here that Froch took the strange strategy of not pushing Kessler for much of the fight. Kessler had the ability to stand in front of him and use his jab effectively. Andre Ward has a much superior outside game compared to Kessler, as we are all about to see in the next fight. Froch must put Ward on his back foot if he wants to win. Otherwise, it's hard to see him winning with a similar strategy that he took in the Kessler fight.
Andre Ward
Ward here dominated Kessler from beginning to end. Some will cry foul with his headbutts, which has some merit, but the headbutts did not change the outcome of the fight. Kessler is known for being a superior range fighter and Ward completely picked him apart from the outside. As I stated before, if Froch uses the same strategy that he did against Kessler, Ward will simply keep taking pop shots and win an easy UD.
If you are a glutton for punishment here is Andre Ward vs. Arthur Abraham
Abraham seems to stand in front of fighters that outclass him. King Abraham did nothing different in his match with Carl Froch. Once again if you enjoy beatings here is Carl Froch vs. Arthur Abraham
One last video. I think the best video Froch could watch is the Sakio Bika vs. Andre Ward. Bika has a relatively close style to Froch and quickly realized that it was brawl or lose to Ward (which happened anyways). Best tape for Ward to emulate? The first video in the article. He is a superior range fighter to Kessler and if he can make Froch a counter puncher (which he is an average one) this should be relatively easy UD win.
Happy fight weekend!
SW