Written by Shaun McComas | 02 February 2012

While the rest of the country keeps pondering about Mayweather-Cotto, if boxing is or is not dead, or how the hell places like Chicago and Indianapolis are enjoying spring weather in the end of January/beginning of February, truth is we have a pretty fun scrap happening this Saturday in San Antonio that according to some report it is close to being sold out (a far cry from the 375 tickets sold Steve Kim from Maxboxing.com reported were sold at the Rigondeaux fight).
Nonito Donaire, a very talented bantamweight who we last saw in a dreadful fight this past October, will face off against Wilfredo Vazquez Jr, a solid super bantamweight Boricua who may have some issues making weight, in what should be a fun co-feature fight while it lasts. If this fight goes the way of Donaire's last fight, no one will accept any excuses from either him or Gentleman Bob of "the other guy" stinking up the joint.
In the main event, the son of the legend, Julio Cesar Chavez Jr. will defend his title against the toughest opponent he has ever faced int Marco Antonio Rubio.
What To Expect
Nonito Donaire vs. Wilfredo Vazquez Jr.
The Nonito Donaire vs Wilfredo Vazquez Jr fight should be fun while it lasts. Vazquez Jr should be greatly motivated for this fight because this is his chance for redemption. Last year, in a very exciting fight, Jorge Arce decided that Vazquez's undeafeated record had to go when he floored the Puerto Rican fighter in the 12th and final round of their fight.
Early in the fight, Vazquez looked dominant as he put Arce on the canvas in the third and clearly looked fresher and faster. However, the Lollipop Cowboy showed to be more resilient fighter as the fight dragged on and as Vazquez looked tired, Arce took advantage and showed why he is one of the most exciting small fighters in the past 25 years. He continued grinding down his opponent until Arce finally exploited the Puerto Rican champion's stamina issues in the 12th round and earned the TKO.
Vazquez took an interim fight between then and now and is up against an even tougher opponent. After blitzing Fernando Montiel in my Knockout of the Year of 2011, the Filipino Flash had a dreadful fight against Omar Narvaez in which he earned a UD. There is no need to comment on that fight as after the second round of that TIVO recorded fight, I proceeded to fast forward to the end as I knew I had already lost a precious 8 minutes of my life watching a counter puncher fight a no show. In fact, I recalled myself thinking during that fight, "I wonder when Hopkins is fighting again?".
This will be Donaire's first fight at 122 lbs and thankfully his challenger is someone who is not afraid to fight offensively. I can foresee the first 2 rounds as fairly boring as both men try to feel each other out. After that, it is anyone's guess as to how long this fight lasts. I believe that Nonito's superior defense and more accurate punching may prove to be too much for Vazquez. I do think that Vazquez will not make this an easy night for Donaire and may possibly stun the Filipino superstar and may mark up his face (something he hasn't experienced in his last 2 fights). All that being said, I am calling for a 9th round TKO for Nonito Donaire.
Julio Cesar Chavez Jr. vs. Marco Antonio Rubio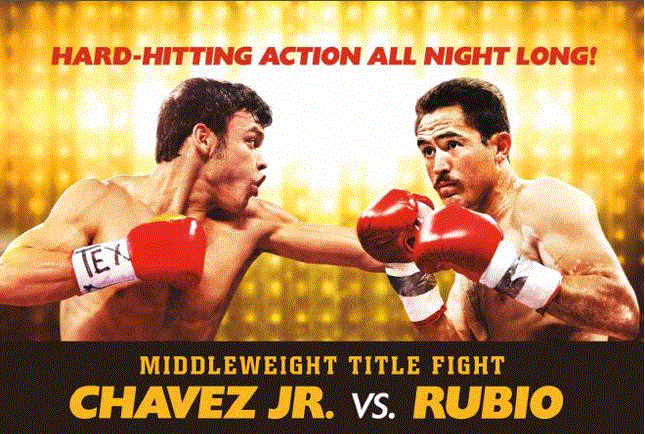 Chavez Jr vs Marco Antonio Rubio should be a pretty entertaining slugfest. Chavez Jr, whom in his last fight beat up former Contender finalist Peter Manfredo, has developing his game slightly since taking up Freddy Roach as trainer. In both his championship effort against Zbik (which to this writer's eyes won the fight) and against Manfredo, the son of the Mexican legend showed that he could box a little. However, he was able to box and impose his will in both fights because he was the larger man. In his heart, Chavez Jr likes to slug it out and fight small. With both his natural size and descent power, he has been able to overcome rather soft opposition. This will not be the case against Marco Antonio Rubio. Rubio is a natural Middleweight who is looking to make it 11 straight wins since his loss to Kelly Pavlik. Rubio is a very good fighter who has power in both fists and is extremely motivated to beat his Mexican brethren. Although he is rather economical with his punches, he likes to apply pressure against his opposition and has a great chin. And unlike Zbik and Manfredo, when he lands a punch, Junior will know he has a real fight on his hands.
From the get go of this fight, if Freddy Roach is worth his salt as a trainer, and I think he is, Chavez Jr's game plan should be all around boxing from the outside. He has a good jab when he wants to throw it and at 6 foot tall, he is slightly taller than the 5 foot 10 inch Rubio. The problem is that when Rubio lands a solid punch, there is no telling if Julio Cesar will be able to stick to the game plan. I believe that by the 5th round Marco Antonio Rubio will force the champion to fight more than his trainer wants him to. If this happens, then only time will tell how Junior's chin holds up against the proven veteran. Should this fight reach the scorecards, I have a feeling that some sleight of hand may play a prominent role in the judge's scorecards and the son of the legend may garner the UD. However, I am calling for the upset as I see this fight becoming more of a slugfest during the middle rounds and Marco Antonio Rubio earning a 10th round TKO victory over Julio Cesar Chavez Jr.
Saturday nights are alright for fighting.